Trapper Construction Tech
100% Made Here
Every part of your board is prepared and made here in our workshop, starting with the core. This allows care and control of every process to ensure the quality you expect. It's also the reason we are able to deliver such a range of shapes and sizes for a boutique manufacturer. While also controlling the environmental impact of each step and reducing transportation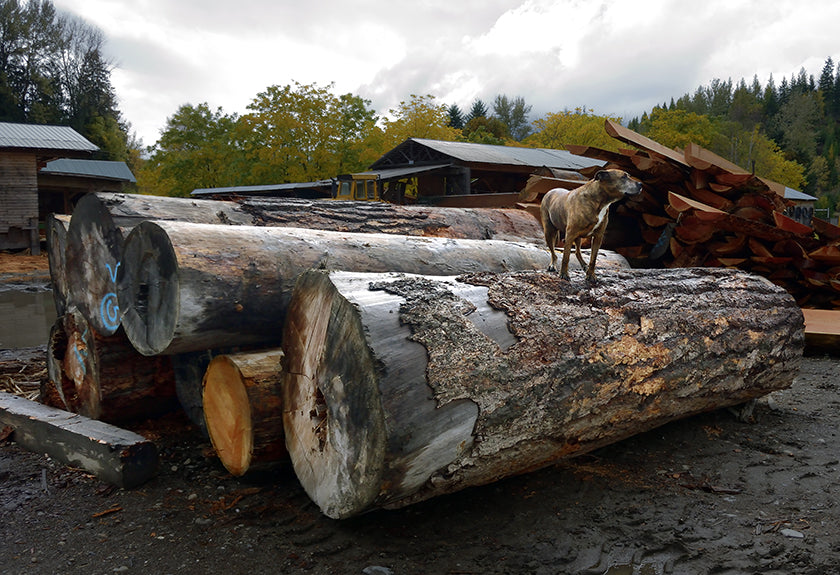 Locals Only
Local Lumber
The wood for our cores is grown and harvested locally near Revelstoke. By using locally harvested and milled species we are reducing the impact of transportation, providing optimum performance and durability, and supporting local industry and jobs. The lumber we use is also the byproduct of producing posts and beams for timber frames homes/buildings.
Upcycling
When timbers are cut from a log there are byproducts of much lower value referred to as side-cuts (highlighted in this image). The bulk of side-cuts are typically destined for lower grade trim but we upcycle them to make our cores. This gives a higher purpose to old-growth wood that should have never been cut down in the first place.
Carbon footprint
Transportation adds to the carbon footprint of all materials. Wood is the bulkiest material in snowboard construction. By sourcing it locally within BC's interior your snowboard core was responsible for fewer emissions. Grown in Canada.
Light, Lively, Lasting
However, the locality of the wood is not the only factor in the decision making process. The hand-selected lumber provides the finished boards with a responsive feel. The stiffness to weight ratio means thinner laminates thereby less weight. It's also very resilient and contributes to the overall durability you deserve.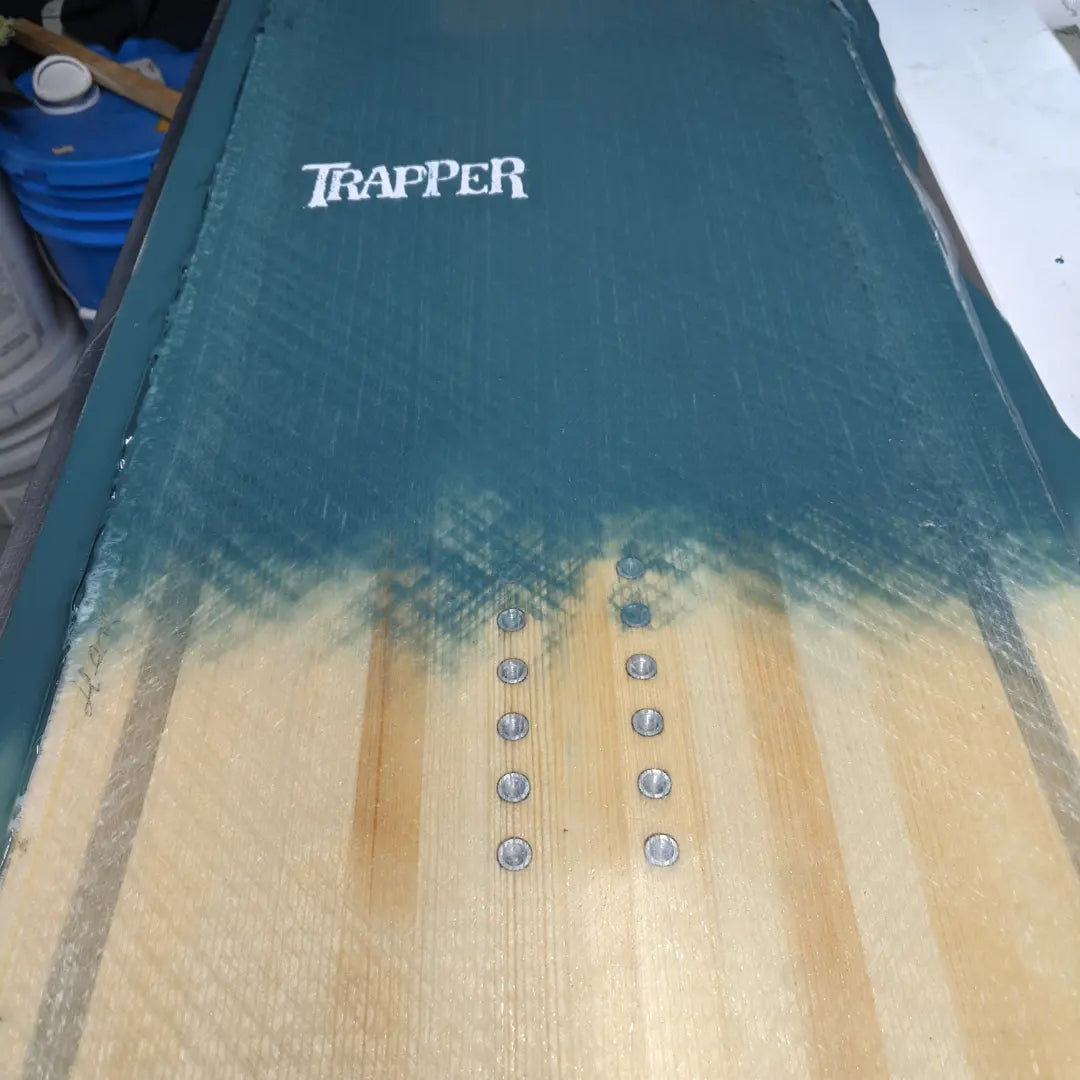 Work Together Eh
Fiberglass and carbon fiber work with the core to determine a boards physical characteristics. The combination our wood core design and selected composites work together to provide the performance, lightweight, and durability that is expected in a premium board. We use composite fiber that is made great in America.
Glass for Class
Fiberglass becomes transparent when saturated with epoxy. Allowing your core to be visible through our transparent top-sheets, not just a trendy printed image of wood grain. Wood veneers look good....for a bit, they also use liquid coatings that are less durable and toxic when compared to our tough top-sheets.
Carbon fiber
We don't skimp in this department. You can't see it hiding below the core but there is 4-10 times more carbon in our layups than most other performance boards. Concentrating all of the carbon below the core maximizes it's benefits. Carbon performs best under tension. When a board is flexed it applies most of the tension on the fibers under the core. This means more POP! All go no show!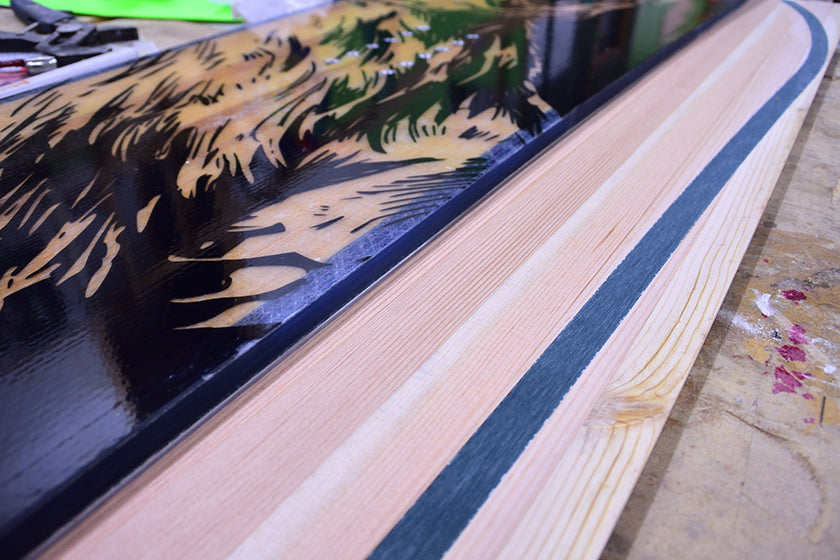 IndEHstructable
95A durometer urethane provides great edge support while remaining impervious to impact at low temperatures. Urethane sidewalls are often touted as providing dampening that you can feel...theoretically. Realistically? Your boots and bindings will do a LOT more. Who cares, they're indEHstructable!
Molded in place
A two-part resin is used to mold the sidewalls as an integrated part of the core to ensure excellent bonding. Precise dispensing and mixing equipment is used to ensure sidewalls free of defects. The equipment also reduces wasted resin and eliminates the use of mixing containers and other disposables.
Freedom of Design
Another reason we chose urethane is the freedom of design the process provides in respect to the cores flex profile. It allows us to fine tune the flex profile of the board right to the very tips. Some process' can be restrictive for big powder noses. Perfectly tuned flex.....basically yoga boards...so hot right now.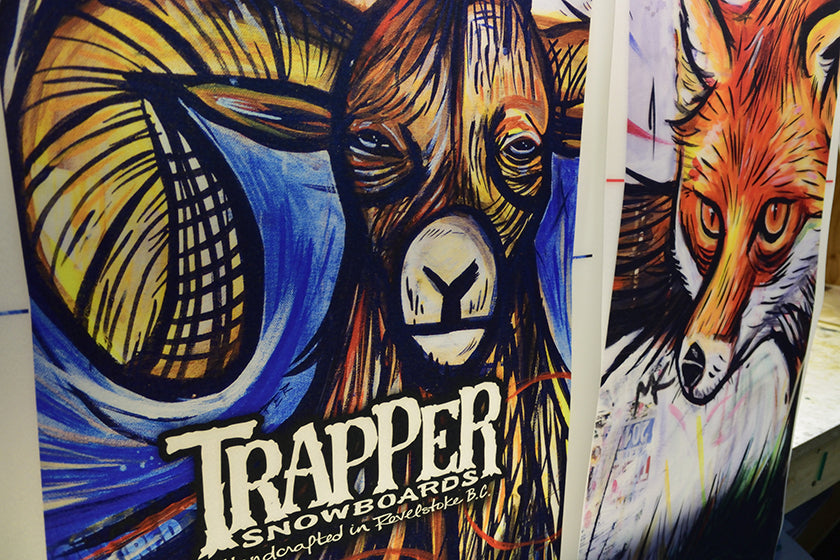 Icing on the cake
There is no sense in making a premium board that works well but doesn't look top notch. We work closely with independent artists to create real art that brings your board to life. Each artist brings their own style to the table. Oh....and we should probably mention that they're all snowboarders too.
Sub a dub dub
Sublimation is a process using special water based inks which are transferred from a print to the top-sheet material using heat and pressure. It's environmentally friendly while allowing limitless photo quality artwork.
The material
Made in Austria. A co-extruded nylon top-sheet is made up of two layers is the premier top-sheet material in the industry. The top layer is tough and crystal clear, to protect and intensify the artwork. While the bottom layer is designed for maximum bonding and optimum graphics quality. This means a durable top sheet that won't peel and high graphics that won't scratch or fade.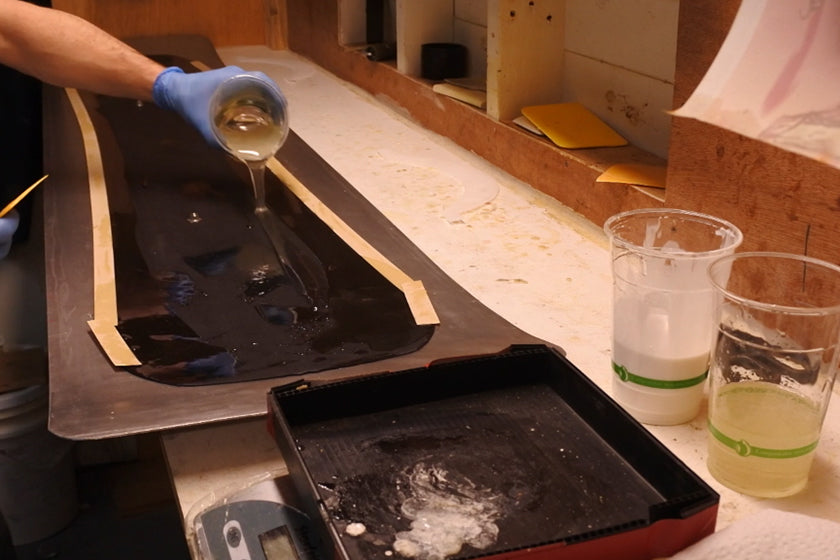 Keep it together man!
We make no compromises with our epoxy formula. We choose higher strength and performance over fast production rates. This combined with our quality control is the reason we have an industry leading warranty rate of less than 1%. Thankfully (for our own health and the planets) it is very low in VOCs (volatile organic compounds) and made in Canada.
Noodles are for eating
The lifespan of a snowboard isn't just about it staying in one piece. Epoxy also determines how long your board keeps it's flex pattern. Normal use slowly breaks down the the epoxy bonds causing the board to gradually feel softer. Our zero compromise epoxy slows this process so that your board has a long and prosperous life. Ask one of many people that have 200 plus days on theirs, splits included.
Epoxy Tint
In the world of sublimation the "color" white does not exist. Typically toxic silk screening inks are used to provide a white backdrop on transparent top-sheets. Alternatively, we provide a white backdrop and highlight selective areas of artwork by tinting some of the epoxy. This can be found on the Poacher and Howler models. It makes sections of the artwork stand out and eliminates the toxic alternative.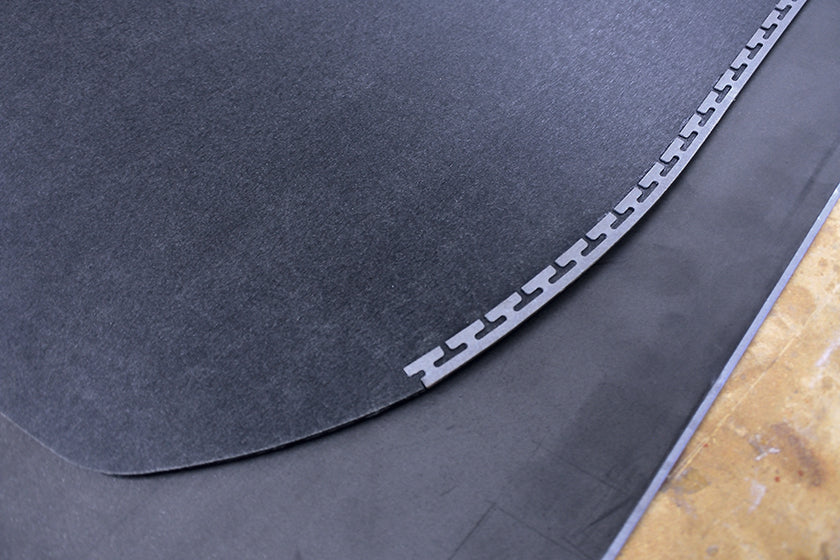 Paint it Black
Made great, in America. The densest grade of sintered UHMWPE base material with carbon additive, stone ground to perfection. Translation: Toughest, fastest, period. Tougher means less damage from rocks and such so you can ride it like you stole it. Faster means more turns per vertical, more speed for racin' or sendin', and no more scooch leg! (Scooch leg?)
No graphics, no problems
There are two ways to make base graphics. Graphics with many colors and imagery use a transparent base material and either sublimation (like our top-sheets) or silk screening. The problem with the transparent material is that it's not as tough and is much slower. The other option is die-cut graphics (think puzzle pieces). No matter how well done this is it still results in a seam which can lead to reduced speed and durability. When you weigh potential costs to benefits.....black wins.
Edges
From Germany thepremium industry standard of hardened steel edges (Rockwell 48). Standard thickness. No need to reinvent the wheel and pummel you with marketing gimmicks or hype. In other words, no BS. We've been using these since 2011 and they don't tear out or break. Made in Germany.......same as edges used in other quality manufactured boards and skis.